Sun Protection
Aluminium Pergolas
Verandas
About
Veranda Enhancements From Nationwide
Create the perfect outdoor living area with our Veranda Enhancements.
We offer a range of different options to enhance your Veranda. If you are looking for shade then we have both exterior roof blinds as well as a range of underside shading solutions.
If you are looking to enjoy your Veranda well into the summer evenings (or even beyond!) Then be sure to consider our outdoor heaters and integral lighting options.
Our range of Exterior Sun Screens can enclose your Veranda at the press of a button, providing shade, privacy and protection from unwanted insects.
Sliding and Fixed Glass Walls are a popular addition. Easily enclose your Veranda to make an outdoor living space that can be used not matter what the weather is doing.
5 YEAR GUARANTEE
Enhance your outdoor living
Custom made to suit your requirements
Materials from the highest quality
Free design service available
Fitted by fully qualified Nationwide Veranda Installers
Sliding Glass Walls
Sliding Glass Walls are perfect for enclosing your Veranda. It is simple to operate and allows you to partially or fully enclose one or more sides of your structure creating the perfect garden room.
8mm toughened glass
Simple operation
Maintenance free
Fixed Glass Walls
Our Fixed Glass Walls are manufactured using toughened glass and use an aluminium frame that is powder coated to match your Veranda.
For the sides they are available with an angled top to match the pitch of your roof or a straight top for the front. Perfect for combining with our range of Sliding Glass Walls.
8mm toughened glass
Aluminium frame to match
Maintenance free
Veranda Screens
Our remote control operated screens are housed in a discreet cassette that is colour matched to your Veranda. At the press of a button, the screen will descend enclosing part or all of your Veranda.
Choose from hundreds of fabrics specially designed to cut the heat and reduce glare without cutting the light.
The fabric locks into the guide rails allowing use in stronger winds and also prevents insects from getting through!
Remote control operation
Aluminium frame to match
Locking fabric mechanism
Veranda Side Screens
Veranda side screens are a simple but effective way of providing shade and privacy to one or more sides of your Veranda.
Side screens are manually operated and simply pull out from the wall using a spring loaded mechanism. They utilise a choice of hundreds of designs from our Awning fabric range.
Manual operation
Provides shade and privacy
Choice of hundreds of colours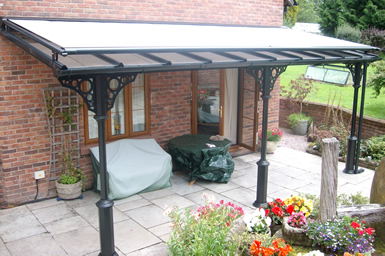 External Roof Blind
This is a remote control operated blind that mounts into a cassette above the Veranda roof. The beauty of this type of blind is that it blocks the heat before hitting the glass providing optimal heat reduction.
This special fabric still allows light to penetrate but still will reduce glare.
The frame is made from aluminium and powder-coated to blend with your Veranda.
Blocks heat but not light
Aluminium frame to match
Remote control operation
Arreo Underside Blind
The Arreo underside blind is based on similar technology to the External Blind. It is electric in operation and operated via a remote control.
The frame is manufactured in aluminium and is powder-coated to match your Veranda. When not in use, the fabric is retracted back into an unobtrusive cassette keeping it in pristine condition.
Large range of fabrics
Remote control operation
Aluminium frame & cassette
Veranda Lighting
Integral lighting within the glazing bars is an option on many of our Veranda models. Using either LED or halogen bulbs and operated via remote control, you can light up the area to enjoy your Veranda well into the evenings and create a comfortable and stylish ambience.
Installed within the glazing bars
LED or halogen options
Remote control operation
Veranda Heating
Our range of outdoor heaters are perfect for those looking to enjoy outdoor living even when the temperature drops.
The heaters are electronic in operation, and are efficient to run and the heat is felt instantly. They do not heat up the air so even with a bit of wind you can stay warm.
Efficient to run
Options of remote control operation
Heats objects but not the air
FINANCE OPTIONS AVAILABLE
- 0% APR representative
Nationwide Home Innovations have been installing high quality, bespoke, home improvement products for over 30 years. Our range of Veranda enhancements are always manufactured to the highest standard to ensure years of trouble free enjoyment. Each Veranda Enhancement product is designed to blend effortlessly with your Veranda allowing you to create the ideal outdoor living area.
Our experienced team are able to provide a free measuring and costing service to design the perfect installation for you - custom made to your exact specification. Simply complete the short form above to request a free brochure or arrange for your free, no-obligation consultation.
You may also be interested in...
"Our new veranda is fantastic. Thank you for a job well done"
- Mr J Cooke, Lincs
Read More...
Quality
Nationwide have been supplying home improvements for over 30 years and have thousands of happy customers.
Bespoke
Every product is bespoke and tailored to fit your specific needs. No two installations are the same.
Value
Substantial savings of up to 25% on our extensive range of products