Sun Protection
Aluminium Pergolas
Verandas
About
Aluminium Pergolas & Terrace Roof Systems
Aluminium Pergola Systems provides the weather protection of a Veranda, plus the shading of an Awning yet provide the option to open up or retract the roof when required.
At present we provide four types of Aluminium Pergola Roofs. The Lugano uses a waterproof fabric and the Levanto, Arezzo and Rapallo are an aluminium louvred roof where the louvres either tilt or retract.
All products are made using high quality aluminium frames that are powder-coated in a colour of your choice.
Contact us to arrange a free, no obligation, design consultation today where we can discuss all Aluminium Pergola options plus run through all of our other products to find the best solution for you!
5 YEAR GUARANTEE
Free no obligation consultation
High quality aluminium frame
Large areas of weather protection
Compatible with Glass Walls & Screens
Fitted by fully qualified Nationwide Installers
The Arezzo Louvred Patio Roof
The Arezzo is the newest in our range of Aluminium Pergola Louvred Roof Systems. Using a simple remote control the louvres can be controlled from anywhere from fully closed right the way round to 145° allowing you to track the sun, controlling light levels, shade and protecting you from the elements when the weather turns.
The Arezzo Louvred Roof is manufactured from high grade aluminium and can be powder-coated in a colour of your choice. Available as a freestanding structure or attached to your property.
Large projections of up to 6m is possible and widths of a single unit up to 4.5m with the option to inifitely couple units. This Louvred Roof is compatible with a range of sliding and fixed glass walls and a range of screens to provide shade, privacy and protection from the elements.
The Lugano Terrace Roof
The Lugano is a retractable roof system consisting of a waterproof fabric. Large areas of up to 7m in width and 7m in projection can be achieved.
Manufactured using an aluminium frame with integral gutter system and operated using a remote control. Compatible with fixed and sliding glass walls.
Widths up to 7m
Projections up to 7m
Integral guttering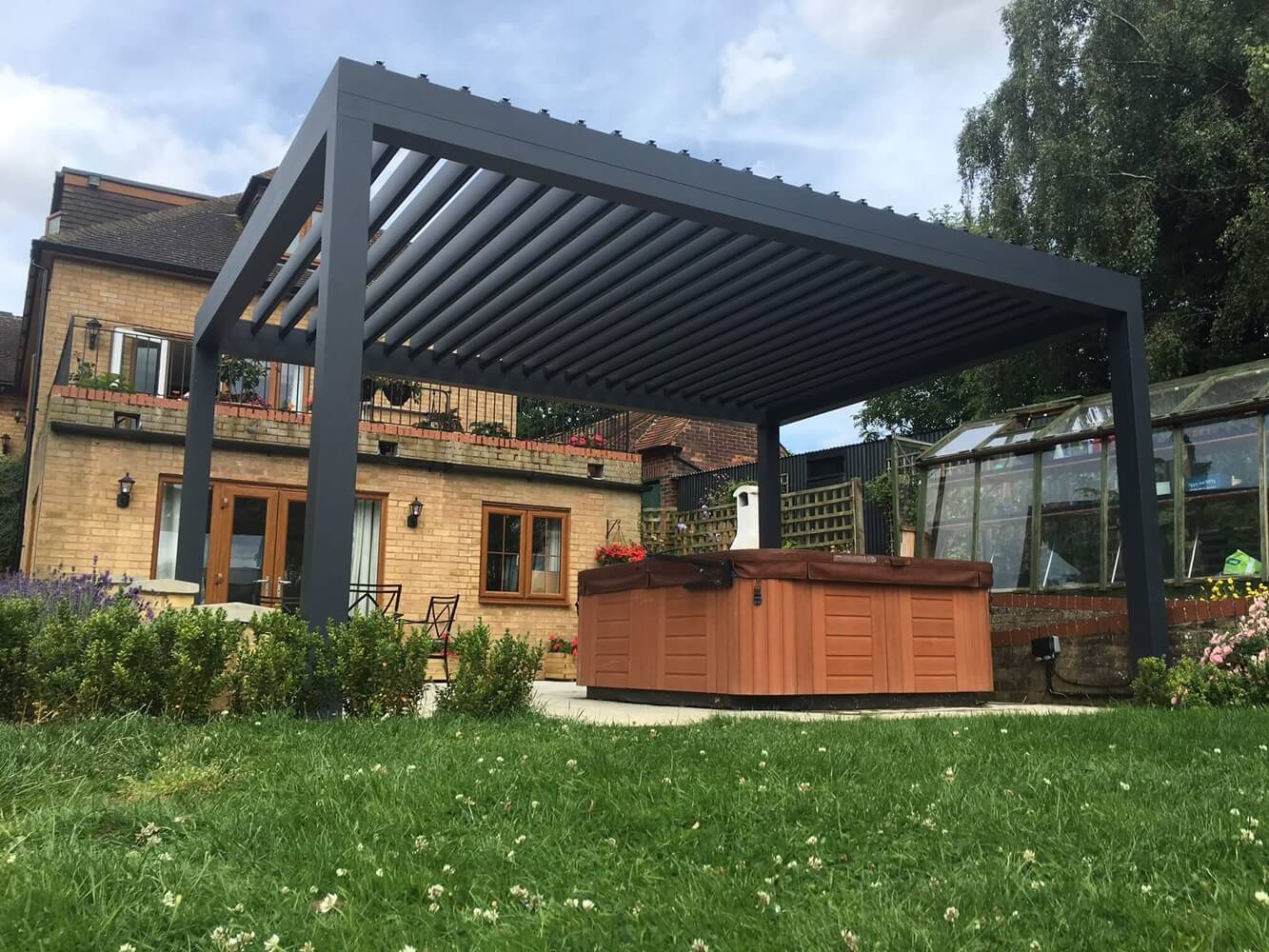 The Levanto Louvred Roof
The Levanto is a remote control operated Aluminium Louvre Patio Roof. At the press of a button, the louvres can be fully closed or open anywhere up to 90 degrees allowing you to control shade and airflow.
This Louvred Patio Roof can be manufactured as a freestanding product or with one side fixed to a wall. Widths up to 7m can be achieved with projections up to 6m.
It is possible to have our range of Sun Screens fitted integrally within the structure and can also be combined with our range of Fixed and Sliding Glass Wall systems. LED lighting options are also available.
Rotating louvred roof
Compatible with Screens & Glass Walls
Integral guttering
The Rapallo Louvred Roof
The Rapallo is similar to the Levanto with the difference being that the aluminium louvres retract rather than rotate.
Widths of up to 6m with projections up to 5m can be achieved. Like the Levanto, The Rapallo is compatible with Screens and Glass Walls allowing you to partially or fully enclose your roof.
Retractable louvred roof system
Any RAL colour available
Compatible with Glass Walls & Screens
FINANCE OPTIONS AVAILABLE
- 0% APR representative
Nationwide Home Innovations have over 30 years of experience in producing top quality, custom made, home improvement products. Terrace Roofs are the latest addition to our comprehensive range of Verandas, Awnings and other sun protection products for the home. Each product is manufactured using the highest quality materials and is tailor made to suit your exact requirements.
Our in-house design team are able to overcome many obstacles that others cannot and we provide a free design consultation service where a fixed quotation can be provided. Simply complete the short form above to request a free brochure or to arrange a free, no-obligation consultation.
You may also be interested in...
Virtual Tour Of Our Showroom
"Our new veranda is fantastic. Thank you for a job well done"
- Mr J Cooke, Lincs
Read More...
Quality
Nationwide have been supplying home improvements for over 30 years and have thousands of happy customers.
Bespoke
Every product is bespoke and tailored to fit your specific needs. No two Terrace Roof installations are the same.
Value
Substantial savings of up to 25% on all of our products